Take Me to the Candy Shop.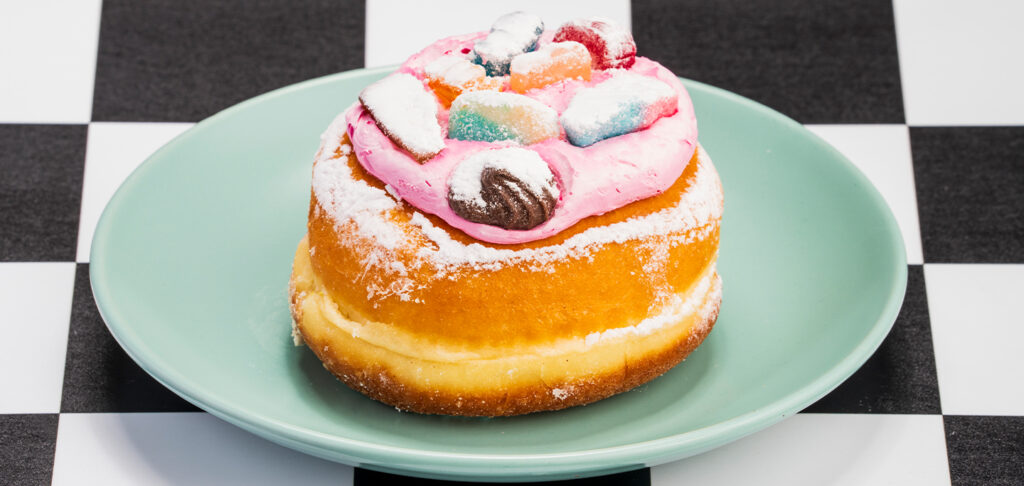 Welcome to the Love Bomb Candy Cafe sweet shop – also known as the enchanting world of sugary wonders! Inside our candy shop we offer a delectable variety of lollipops, gelato, popcorn and classic candy mixes. Brace yourself for an indulgent adventure as we delve into the extraordinary treats that await you!
Here are just some of our most popular items within our Darling Harbour candy store. However, as with everything Love Bomb Candy Café, there is always more to explore… so this is just a taste:
Candy Station: A Candy Dreamland
As you step into the candy shop, the first thing that catches your eye is a dazzling display of candy creations. Our pre-made pots come in an array of vibrant colours and flavours. From classic mixes of jelly and sour blends to our mystery candy pot, there is a ready-to-go candy mix to satisfy every sweet tooth. Conveniently packed, our candy pots make the perfect grab-and-go souvenir or a delightful gift for your loved ones.
Pure Gelato: A Creamy Haven of Flavours
As you make your way through the shop, the gelato counter beckons you with its mouth-watering assortment of creamy delights to cool you down on a hot day. Made with the finest ingredients and traditional Italian techniques, these frozen treats offer a symphony of flavours. From the classic favourites like chocolate and vanilla to our unique fruit sorbet gelato bowl, our pure gelato promises an unforgettable taste experience. Indulge in a single scoop or go for a gelato choc top heaven – the possibilities are endless!
Popcorn: Hot, Fresh and Ready to Eat
Nestled amidst the candy station is our range of popcorn creations. From old fashioned coloured popcorn to our sweet, cinnamon popcorn, our range of popcorn is conveniently packed and ready to take home. If you are looking for a dine in snack, we also have our hot buttered popcorn as well as hot sweet and salty popcorn which boasts that sweet and salty combination our customers have come to love. If you are craving childhood favourites or eager to explore new flavours, our popcorn selection will transport you to a crunchy, candy-coated wonderland.
Whether you're in the mood for an old fashioned lollipop from our hard candy collection, a scoop of velvety gelato, or a nostalgic jelly mix from our candy station, Love Bomb Candy Cafe has something for everyone from retro favourites to the latest candy creations.
So why not indulge your senses, satisfy your cravings, and let the magic of sweet delights transport you to a world where sugar reigns supreme!
We look forward to welcoming you to our candy shop within the Love Bomb Candy Cafe. In store we have something for everyone, be sure to check out our menu here. If you want to keep up with the happenings at Love Bomb Candy Café, be sure to follow us on Instagram and Facebook.